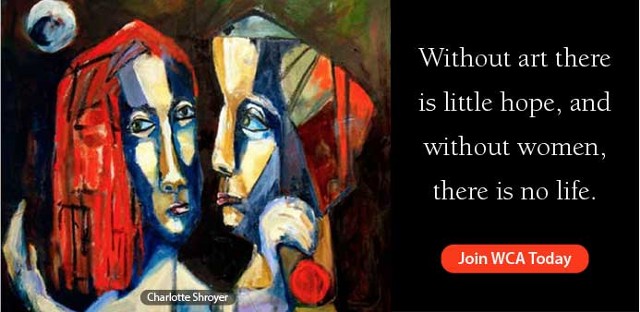 The WCA is a national organization of women artists interested in recognizing, supporting and promoting women artists, women art teachers, historians, critics, curators, writers, performance artists, and women craft experts. Their mission is to help educate and engage the public with art and art activism for the betterment of society. Without art there is little hope, and without women, there is no life.
Upcoming Dates

January 24th to February 9th | WCACO Members Show & 30 Year Anniversary Show
Core New Art Space, 6851 W. Colfax Ave, Lakewood, CO
Opening Reception / January 24, 2020 - 5:00 pm to 10:00 pm.
First Friday / February 7, 2020 - 5:00 pm to 10:00 pm.
Artist Talk / February 9, 2020 - 3:00 pm to 5:00 pm.
Sunday, February 9, 2020 | Next Members Meeting / Artist Talk at Member Show / Deinstall Show
Located at:
Core New Art Space
6851 W. Colfax Ave
Lakewood, CO 80214
Member Meeting - 1:00 pm to 3:00 pm
Artist Talks – 3:00 pm
Deinstall Members Show – 5:00 pm
It will be a long day so do what you can. No worries if you only can make one or two things.
As a member of your local state chapter, you automatically become a member of the national WCA. Benefits of membership are many, including nationally held, juried exhibitions, an annual convention held in conjunction with the College Arts Association, and networking with artists all over the country as well as internationally. The national organization also honors women in the arts with the prestigious Life Time Achievement Awards, held during the annual convention.
The WCA was founded in 1972 at the annual meeting of the College Art Association (CAA) and was known as the Women's Caucus of the College Art Association.
In 1975 the WCA became a separate organization, retaining its affiliation with the CAA but functioning as an independent entity with its own structure and bylaws.
Currently headquartered in NYC, the WCA invites multi-disciplinary, multi-cultural membership of artists, art historians, students and educators, gallery and museum professionals, and others involved in the visual arts. Emphasis is focused on the enormous contributions of women and people of color throughout the history of art as well as women working in the visual arts professions today. We have established a national network through research, exhibitions, conferences, and honor awards for achievement.
Women's Caucus for Art (WCA-CO) - Colorado Chapter
The local chapter of the national organization of the Women's Art Caucus. WCA-CO has currently 63 member women artists working within the Colorado. We have been an active chapter of the national WCA since 1990 when board member Catherine Carilli founded the Colorado Chapter after moving to Colorado from Wisconsin where she had been an active member of that chapter.
Our Mission Statement
to create community through art, education, and social activism
by supporting women artists
by creating leadership opportunities
by offering exhibition opportunities
Board Members
Julie Clement - President
Barb Pullin - Vice President
Jean Smith - Treasurer & Membership
Laura Paul - Secretary
We collaborate on art projects and organize art exhibits for our members. We meet once a month for a member meeting where we welcome new and potential members, plan events, exchange ideas, encourage, give and offer support to our artistic ventures. Social events are organized by our board throughout the year.
Please visit our News Events page for most recent exhibits and events, and Facebook to keep in touch with the group.
Membership is open to all women artists and to men of consciousness about equality in the arts and for recognizing the talents and efforts of women artists often gone unacknowledged in the mainstream.