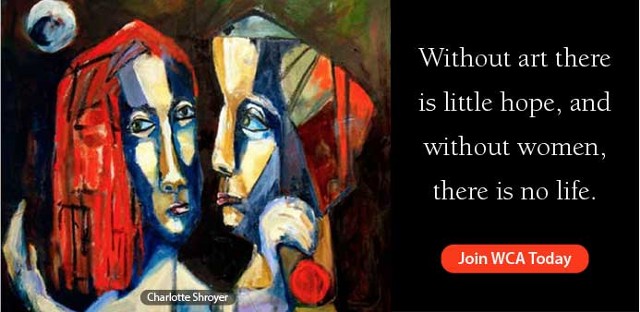 The WCA is a national organization of women artists interested in recognizing, supporting and promoting women artists, women art teachers, historians, critics, curators, writers, performance artists, and women craft experts. Their mission is to help educate and engage the public with art and art activism for the betterment of society. Without art there is little hope, and without women, there is no life.
Upcoming Dates

Sunday, April 5, 2020 | APRIL Members Meeting
Individual Shelter in place via ZOOM. Meeting starts at 1:00 pm
We will be meeting through the ZOOM app. This is an exciting and fun way to continue our meetings.
Invitation to our first WCA meeting on Zoom. Please download the Zoom app on your device that you will be on during the meeting, phone, tablet or computer. Here is a link on Zoom's how to's: https://support.zoom.us/hc/en-us/articles/217214286-Watch-Recorded-Training-Sessions
Topic: WCA remote meeting via Zoom
Time: Apr 5, 2020 01:00 PM Mountain Time (US and Canada)
Join Zoom Meeting
https://zoom.us/j/668075905
Meeting ID: 668 075 905
One tap mobile
+16699006833,,668075905# US (San Jose)
+13462487799,,668075905# US (Houston)
Dial by your location
+1 669 900 6833 US (San Jose)
+1 346 248 7799 US (Houston)
+1 929 205 6099 US (New York)
+1 253 215 8782 US
+1 301 715 8592 US
+1 312 626 6799 US (Chicago)
Meeting ID: 668 075 905
Find your local number: https://zoom.us/u/abDwuQ1CFo


If you would like to practice prior to the meeting please contact Annette. She is informative, patient and fun!
Contact Annette: annettecoleman@yahoo.com or 303-941-8887.
Annette will be our facilatator during the meeting, she will ask you to participate through 'chat', the board and Kim Roberts will be seen on your screen and will present, answer questions and respond to you through 'chat".
Thank you for your patience as we all adapt. We are here to support you. We are ALL in this together.


Sunday, May 3, 2020 | MAY Members Meeting
Located at: THIS WILL BE DETERMINED THE CLOSER IT GETS DUE TO THE SHELTER AT HOME CRISIS.
Member Kari Bell to host at her home and studio
2641 South Grant Street
Denver, CO
Meeting starts at 1:00 pm
Please bring one piece of your artwork for an "Art Moment" discussion
Sunday, June 7, 2020 | JUNE Members Meeting
Located at: THIS WILL BE DETERMINED THE CLOSER IT GETS DUE TO THE SHELTER AT HOME CRISIS.
Member Susann Gordon to host at her home and studio
1275 Fairfax Street
Denver, CO
Meeting starts at 1:00 pm
Please bring art to exchange art supplies. Make it one box
As a member of your local state chapter, you automatically become a member of the national WCA. Benefits of membership are many, including nationally held, juried exhibitions, an annual convention held in conjunction with the College Arts Association, and networking with artists all over the country as well as internationally. The national organization also honors women in the arts with the prestigious Life Time Achievement Awards, held during the annual convention.
The WCA was founded in 1972 at the annual meeting of the College Art Association (CAA) and was known as the Women's Caucus of the College Art Association.
In 1975 the WCA became a separate organization, retaining its affiliation with the CAA but functioning as an independent entity with its own structure and bylaws.
Currently headquartered in NYC, the WCA invites multi-disciplinary, multi-cultural membership of artists, art historians, students and educators, gallery and museum professionals, and others involved in the visual arts. Emphasis is focused on the enormous contributions of women and people of color throughout the history of art as well as women working in the visual arts professions today. We have established a national network through research, exhibitions, conferences, and honor awards for achievement.
Women's Caucus for Art (WCA-CO) - Colorado Chapter
The local chapter of the national organization of the Women's Caucus for Art (WCACO) has currently 60 member women artists working within the Colorado. We have been an active chapter of the national WCA since 1990. We are currently celebrating our 30 year Anniversary this year.
Our Mission Statement
to create community through art, education, and social activism
by supporting women artists
by creating leadership opportunities
by offering exhibition opportunities
Board Members
Julie Clement - President
Barb Pullin - Vice President
Jean Smith - Treasurer & Membership
Patty Fabian - Secretary
We collaborate on art projects and organize art exhibits for our members. We meet once a month for a member meeting where we welcome new and potential members, plan events, exchange ideas, encourage, give and offer support to our artistic ventures. Social events are organized by our board throughout the year.
Please visit our News Events page for most recent exhibits and events, and Facebook to keep in touch with the group.
Membership is open to all women artists and to men of consciousness about equality in the arts and for recognizing the talents and efforts of women artists often gone unacknowledged in the mainstream.