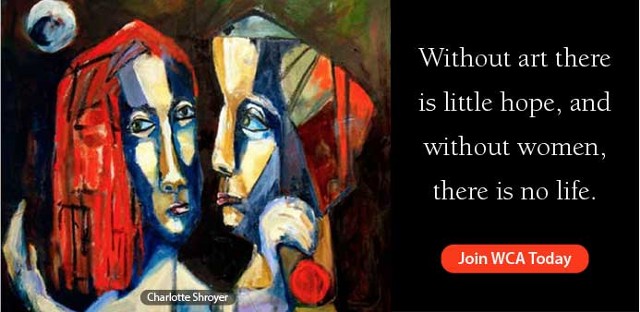 The WCA is a national organization of women artists interested in recognizing, supporting and promoting women artists, women art teachers, historians, critics, curators, writers, performance artists, and women craft experts. Their mission is to help educate and engage the public with art and art activism for the betterment of society. Without art there is little hope, and without women, there is no life.
Upcoming Dates

Sunday, March 8, 2020 | MARCH Members Meeting
Located at:
Arvada Center for the Arts and Humanities
6901 Wadsworth Blvd
Arvada, CO 80003
Members Meeting - 1:00 pm to 2:30 pm (12:00/12:30 to set up room).
We will be in room 24B, which is upstairs towards the back of the Upper Gallery (Box Office will be able to help you with directions if you need help).
After the meeting we will wander into the main gallery for the:
The 528.0 Regional Juried Printmaking Exhibition was open to artists residing within a 528.0-mile radius of Denver, Colorado. The number 528.0 refers to Denver's altitude and status as the Mile High City (5,280 feet). The call for entry garnered 422 entries from cities across the region. Jurors Brandon Gunn (Tamarind Institute in Albuquerque, NM), Karen Kunc (University of Nebraska-Lincoln), and Collin Parson (Arvada Center for the Arts and Humanities, Arvada, CO) selected 76 works to celebrate the expansive diversity of contemporary printmaking found within this western region. This exhibition is in partnership with the Invisible Museum and in conjunction with Denver's Month Of Printmaking (March 2020).
Already on the Agenda is: Power Point Presentation from our member Anne Mohler coming back from WCA National Conference in Chicago.
Sunday, April 5, 2020 | APRIL Members Meeting
Located at:
Member Johanna Morrell to host at her home and studio
320 Gaylord
Denver, CO
Meeting starts at 1:00 pm
Sunday, May 3, 2020 | MAY Members Meeting
Located at:
Member Kari Bell to host at her home and studio
2641 South Grant Street
Denver, CO
Meeting starts at 1:00 pm
Please bring one piece of your artwork for an "Art Moment" discussion
Sunday, June 7, 2020 | JUNE Members Meeting
Located at:
Member Susann Gordon to host at her home and studio
1275 Fairfax Street
Denver, CO
Meeting starts at 1:00 pm
Please bring art to exchange art supplies. Make it one box
As a member of your local state chapter, you automatically become a member of the national WCA. Benefits of membership are many, including nationally held, juried exhibitions, an annual convention held in conjunction with the College Arts Association, and networking with artists all over the country as well as internationally. The national organization also honors women in the arts with the prestigious Life Time Achievement Awards, held during the annual convention.
The WCA was founded in 1972 at the annual meeting of the College Art Association (CAA) and was known as the Women's Caucus of the College Art Association.
In 1975 the WCA became a separate organization, retaining its affiliation with the CAA but functioning as an independent entity with its own structure and bylaws.
Currently headquartered in NYC, the WCA invites multi-disciplinary, multi-cultural membership of artists, art historians, students and educators, gallery and museum professionals, and others involved in the visual arts. Emphasis is focused on the enormous contributions of women and people of color throughout the history of art as well as women working in the visual arts professions today. We have established a national network through research, exhibitions, conferences, and honor awards for achievement.
Women's Caucus for Art (WCA-CO) - Colorado Chapter
The local chapter of the national organization of the Women's Caucus for Art (WCACO) has currently 60 member women artists working within the Colorado. We have been an active chapter of the national WCA since 1990. We are currently celebrating our 30 year Anniversary this year.
Our Mission Statement
to create community through art, education, and social activism
by supporting women artists
by creating leadership opportunities
by offering exhibition opportunities
Board Members
Julie Clement - President
Barb Pullin - Vice President
Jean Smith - Treasurer & Membership
Patty Fabian - Secretary
We collaborate on art projects and organize art exhibits for our members. We meet once a month for a member meeting where we welcome new and potential members, plan events, exchange ideas, encourage, give and offer support to our artistic ventures. Social events are organized by our board throughout the year.
Please visit our News Events page for most recent exhibits and events, and Facebook to keep in touch with the group.
Membership is open to all women artists and to men of consciousness about equality in the arts and for recognizing the talents and efforts of women artists often gone unacknowledged in the mainstream.